Grizzly trio headlines NFL Draft
Every year a number of guys that started out in the junior college ranks have their names called at the annual NFL Draft. This year a total of eight were called, with three coming from Butler College.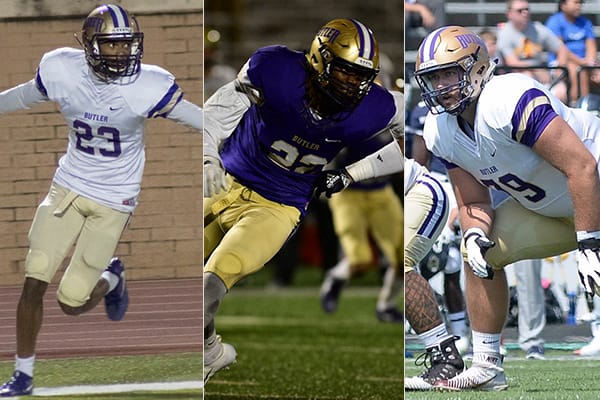 It's very rare that one school will have three guys drafted, but that's what happened this season when a trio of former Grizzlies heard their names from the podium of the NFL Draft in Cleveland. Jordan Smith, Josh Ball and Tay Gowan will represent Butler in the NFL following the draft this past weekend.
A total of eight former JUCO players were drafted, which is a bit low in comparison to some years. I call it the COVID effect, as most scouts had more access to information on guys playing at Power Five Conferences and loaded up on players from those schools.
The first off the board was former Laney defensive back Nahshon Wright, who was selected in the third round (99) by the Dallas Cowboys. Wright played at Oregon State the past two years and is the brother of Rejzohn Wright, who was featured in Last Chance U (Season V).
Next off the board was former Cerritos running back Rhamondre Stevenson, who spent two seasons at Oklahoma. Stevenson went in the fourth round (120) to the New England Patriots.
Immediately following the pick of Stevenson was Smith (DE), who went to the Jacksonville Jaguars with the 121st pick in the draft. Smith played at Alabama-Birmingham following his days at Butler.
The next guy to go later in the fourth round was Ball (OT), who was selected (138) by the Dallas Cowboys. Ball finished up his collegiate career at Marshall after playing at Butler.
Former Iowa Western star Daviyon Nixon (DT) was selected in the fifth round (158) by the Carolina Panthers. Nixon stayed local at Iowa following his days at Iowa Western and was a standout player for the Hawkeyes.
The sixth round saw two former JUCO players selected in Brandin Echols (CB) and Tay Gowan (CB). Echols played at Northwest and was selected 200th overall by the New York Jets following his playing days at Kentucky. Gowan went later in the round (223) to the Arizona Cardinals and played at Central Florida following his days at Butler.
The final guy drafted was former Highland defensive tackle Phil Hoskins, who played at Kentucky following his days with the Scotties. Hoskins was selected at 232 overall by the Carolina Panthers.