Minor movement in the Dirty 30
The latest weekend of junior college football brought some exciting finishes, with a trio of programs being knocked out of the top-10. The Mississippi ranks now have three teams ranked in the top-10.
East Mississippi finally laced them up with a full squad and dismantled Gulf Coast 45-7 to remain on top. The Lions trailed 7-0 before ripping off 45 straight points, holding a 514-176 advantage in total yards against a MGCCC program with a ton of talent. East Mississippi now gets a home date with No. 55 Northeast, who improved to 2-0 on Thursday.
Right behind EMCC at No. 2 is in-state rival Northwest, who improved to 2-0 with a 31-14 win against Pearl River. Northwest has a huge challenge at home this Thursday when they host No. 14 Itawamba, a program that is quickly rising up the ranks.
The big game out west was a thriller as Saddleback came storming back from a 20-point deficit to beat Long Beach City, 37-33. The Gauchos moved up three spots to No. 4 in the rankings with the win while Long Beach dropped 11 spots to No. 15. Saddleback will host Los Angeles Harbor this weekend while Long Beach looks to rebound at Moorpark.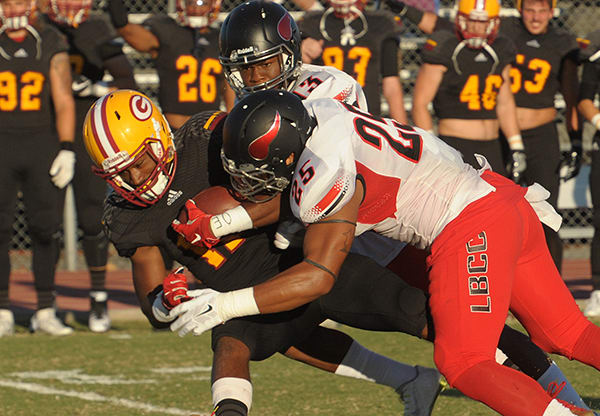 Hutchinson and Snow swapped spots in the rankings, but it had less to do with Hutch than it did Snow. The Blue Dragons had the weekend off while Snow had an uninspiring 14-10 win over Glendale. Hutchinson now comes in at No. 5 in the rankings and has a big home date with No. 31 Garden City. Snow is now at No. 7 and hosts No. 51 Mesa.
American River jumped up to No. 6 in the rankings with a 47-33 win over a tough Modesto squad. The Beavers have one of the more rugged schedules in Northern California this season, and it gets even tougher this week when they host No. 25 San Francisco. American River has beaten San Francisco three straight times, giving the defending national champions their only loss in 2015.
Arizona Western is the second Western States team near the top as they come in at No. 8 this week. The Matadors were comfortable 20-0 winners over Pima, who is an improving program. AWC now travels to Eastern Arizona this week in what looks like a defensive struggle in Thatcher.
A third Mississippi program also jumped into the top-10 as Copiah-Lincoln comes in at No. 10 in the rankings. The Wolfpack improved to 2-0 with a 26-6 win over Coahoma. Co-Lin has a difficult challenge this week when they travel to No. 30 Gulf Coast on Thursday, who is angry after losing two straight games to programs ranked in the top-15.
BIG GAMES THIS WEEK
#55 Northeast Mississippi at #1 East Mississippi (Th)
#14 Itawamba at #2 Northwest Mississippi (Th)
#31 Garden City at #5 Hutchinson
#25 San Francisco at #6 American River
#51 Mesa at #7 Snow
#54 Bakersfield at #9 Riverside City
#10 Copiah-Lincoln at #30 Mississippi Gulf Coast (Th)
#13 Butler at #21 Iowa Western
#28 Northeastern Oklahoma A&M at #17 Tyler
#20 Fresno City at #44 San Mateo
#42 Blinn at #29 Trinity Valley
#39 Canyons at #33 Fullerton
#35 Glendale at #45 Phoenix
#53 Sacramento City at #37 Modesto
The rest of the Dirty 30 Rankings follow. Just a reminder, the JCGridiron.com Dirty 30 Rankings do not recognize games against Club Teams or Prep Schools.
Dirty 30 Rankings (9/12/16)
| Rank | Team | Town | Record | This Week |
| --- | --- | --- | --- | --- |
| 1 | East Mississippi | Scooba, MS | 1-1 | vs. #55 Northeast (Th) |
| 2 | Northwest Mississippi | Senatobia, MS | 2-0 | vs. #14 Itawamba (Th) |
| 3 | Lackawanna | Scranton, PA | 0-0 | vs. Hudson Valley |
| 4 | Saddleback | Mission Viejo, CA | 2-0 | vs. LA Harbor |
| 5 | Hutchinson | Hutchinson, KS | 2-0 | vs. #31 Garden City |
| 6 | American River | Sacramento, CA | 2-0 | vs. #25 San Francisco |
| 7 | Snow | Ephraim, UT | 1-0 | vs. #51 Mesa |
| 8 | Arizona Western | Yuma, AZ | 2-0 | @ Eastern Arizona |
| 9 | Riverside City | Riverside, CA | 2-0 | vs. #54 Bakersfield |
| 10 | Copiah-Lincoln | Wesson, MS | 2-0 | @ #30 Gulf Coast |
| 11 | Santa Rosa | Santa Rosa, CA | 2-0 | vs. San Joaquin Delta |
| 12 | Ventura | Ventura, CA | 2-0 | @ Orange Coast |
| 13 | Butler | El Dorado, KS | 2-0 | @ #21 Iowa Western |
| 14 | Itawamba | Fulton, MS | 2-0 | @ #2 Northwest (Th) |
| 15 | Long Beach City | Long Beach, CA | 1-1 | @ Moorpark |
| 16 | DuPage | Glen Ellyn, IL | 1-0 | Bye |
| 17 | Tyler | Tyler, TX | 0-0 | vs. #28 NE Oklahoma A&M |
| 18 | Golden west | Huntington Beach, CA | 1-1 | @ Chaffey |
| 19 | Butte | Oroville, CA | 1-1 | @ Chabot |
| 20 | Fresno City | Fresno, CA | 1-1 | @ #44 San Mateo |
| 21 | Iowa Western | Council Bluffs, IA | 1-2 | vs. #13 Butler |
| 22 | Holmes | Goodman, MS | 2-0 | vs. Mississippi Delta |
| 23 | Mt. San Antonio | Walnut, CA | 1-1 | vs. Santa Monica |
| 24 | Laney | Oakland, CA | 1-1 | vs. Feather River (Fr) |
| 25 | San Francisco | San Francisco, CA | 1-1 | @ #6 American River |
| 26 | Diablo Valley | Pleasant Hill, CA | 1-1 | vs. Sequoias (Fr) |
| 27 | New Mexico Military | Roswell, NM | 2-0 | vs. Arkansas Baptist |
| 28 | NE Oklahoma A&M | Miami, OK | 1-1 | @ #17 Tyler |
| 29 | Trinity Valley | Athens, TX | 2-1 | vs. #42 Blinn |
| 30 | Mississippi Gulf Coast | Perkinston, MS | 0-2 | vs. #10 Copiah-Lincoln (Th) |