The 15th annual Dirty 30 Preseason Rankings
As is the tradition of every Fourth of July weekend, JCGridiron.com is proud to release the first Dirty 30 Rankings of the year. This is the JCGridiron.com Dirty 30 Preseason Rankings.
It's hard to believe that 15 years ago we would have ever seen a 15th year, but here we are and it's been a heck of a ride the entire way. From our first national champion at Glendale College (AZ) in 2005 to our last at East Mississippi, we've had the luxury of covering a ton of great talent and rubbed elbows with a handful of legends.
This season a new pack of stars will emerge, and our hope is to take the viewers all the way through until the end of the season when we name our 15th JCGridiron.com Dirty 30 National Champion.
As some of you know, we don't take a traditional approach to the rankings. Our preseason rankings are based on a number of factors. We rely heavily on data and strength at key positions. As the season progresses, strength of schedule and high-profile wins will take center stage.
If your school didn't send in preseason information, don't be surprised if you aren't ranked as high as you would like. With over 125 teams in the country playing junior college/community college football, we only have so many hours in the day to chase down information.
Unlike other rankings or polls, we aren't in the business of handing out a preseason No. 1 ranking to the team that won the previous national title. That would be lazy and misleading. With over 700 players signing at NCAA d1 football programs, a ton of change is in store for some of the top teams. For some programs it's just a matter of reloading. For others, coaching and personnel changes could play a big factor.
One thing is for certain, as of last year, JCGridiron.com was the only remaining publication that named a national champion. We wish there were more, but the carnage has taken its toll on the industry. Others will come out with a preseason ranking, but that's as far as they go. Last season we even had one program that tried to name themselves national champions. That was a first…and hopefully a last.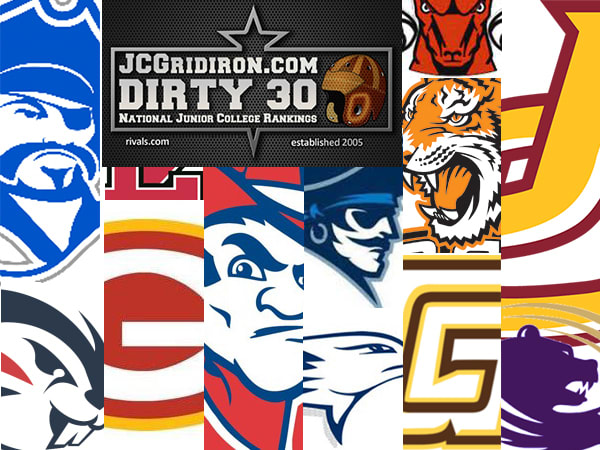 This season brings a lot of new challenges. With the Arizona schools closing up shop, the NJCAA ranks are down to under 60 programs. Where will all of those players go? Will they show up at Jayhawk Conference schools, or take a closer route and head to the non-scholarship schools in California? Will the NJCAA and the CCCAA continue talks about a real national title game, or will the talks break down? Where will Last Chance U head in 2019? We think we know, but our lips are sealed for the moment. Whatever drama unfolds, we will be here to cover it for you.
For now, let us get the season started for you with the JCGridiron.com Dirty 30 Preseason Rankings.
THE TOP-10
10) Lackawanna
The Falcons are one of the more successful programs in the nation over the past five years, generating a ton of D1 recruits and winning games at a torrid pace. Lackawanna has a lot of pieces to replace from the undefeated squad a season ago, but with safety Ji'Ayir Brown and wide receiver Norval Black already giving verbals to Penn State, the Falcons have some heavy hitters on both sides of the ball. The downfall for Lackawanna on a yearly basis has always been the scheduling, which always costs them in the late-season rankings. The Falcons finished ninth a season ago and start this season at No. 10.
9) Saddleback
The Gauchos have only missed a post-season bid twice since the 2001 season and in 51 years have gone under .500 only seven times. This season Saddleback seems a good bet to keep that trend going as the Gauchos have a solid nucleus up front on offense with a bevy of talented quarterbacks. Returner Robbie Patterson will battle with Middle Tennessee State bounceback Chance Nolan for quarterback duties, and with a solid group in front of them they should put up some big numbers. Saddleback finished 25th in the rankings last season and with an upgraded roster has them ranked No. 9 to start the 2019 campaign.
8) Garden City
The folks at Garden City have a new man at the helm as former Arizona Western coach Tom Minnick takes over the Broncbuster program. Garden City has been right in the hunt over the past few seasons, winning a Dirty 30 title in 2016 when they split with Fullerton College. Garden City lost some heavyweights up front on offense from last season and have made some new additions, including Willie Canty (Nebraska bounceback) at tackle. The defense also saw the addition of Ali Gaye, who Minnick convinced to join him in making the trek from AWC. Some will question why Garden City is so low in the preseason rankings given their success in recent years. We are hedging our bets that all the coaching turnover will run into a few kinks playing in a new league. Garden City finished No. 2 in the rankings a season ago, and start this season at No. 8.
7) Northwest
If it wasn't for East Mississippi, the folks at Northwest may have had a handful of Mississippi titles over the past decade. As it is, they have only one from the 2015 campaign. Either way, Northwest has had one of the best programs in the country in generating next-level talent, and again put 20+ players to the next level this past season. Northwest should be stellar on defense this season, with safety Cameron White already giving a verbal to Ole Miss and defensive end Justin Jackson giving a verbal to Colorado. They also return one of the better wide receivers in the conference in Braden Smith, who has given a verbal to Louisville. The big question mark for Northwest will be at quarterback after losing Jacob Free to Troy. Northwest finished tenth in the rankings a season ago and starts the season at No. 7.
6) Blinn
The folks at Blinn should be putting up some points in 2019. Blinn has one of the better trios of receivers in the country in Danny Gray, Xavier Hutchinson and Trae Shropshire, and with Chance Amie transferring in from Syracuse at quarterback the Bucs are going to be hard to outscore. With a number of solid contributors returning on defense, it's not a big stretch to see them vying for the SWJCFC title in 2019. Blinn finished the season at No. 27 last season, but get a big boost to No. 6 to start the 2019 campaign.
5) American River
The Beavers have been in the mix in Northern California pretty consistently over the past half-decade, winning three conference titles in the past five seasons. Last season American River was very young on the field, with a number of freshmen leading the way. Most of them have all grown up now, and should be ready for big seasons in 2019. A good way to start is with the return of starting quarterback Marco Baldacchino, who also has two of his top targets from last season returning. ARC should also be very good in the middle of the field on defense, with three solid linebackers returning. American River finished the season 22nd a season ago, and start this season at No. 5.
4) Jones
The Bobcats had a sensational finish in 2018, making it to the MACJC title game (19-14 loss to East Mississippi) and winning comfortably over Eastern Arizona in a bowl game (27-7). Jones lost a lot to graduation, but still has quite a few bullets left in the chamber as four different Bobcats have already given verbal commitments to four-year schools before fall practice. Jones has Natorian Watts (Tulane commit) and Johnquarise Patterson returning at wide receiver and Kalyn Grandberry (Memphis commit) coming back at running back, giving them some of the more dynamic playmakers in the country. The question will be at quarterback, where they struggled with consistency in 2018. Jones finished third in the race for the Dirty 30 title a season ago, and starts the season at No. 4 in 2019.
3) Riverside City
The folks in the 951 have been a consistent challenger to the JCGridiron Dirty 30 title, but have yet to complete the deal. The Tigers are always as talented as any team in the Golden State, but always seem to find a way to let it slip away. Riverside is once again loaded, with arguably the biggest and best offensive line in the country. They are also going to have some of the top athletes on the West Coast, with playmakers everywhere. If there is a couple of question marks, it could be at quarterback and defensive line. The Tigers have a couple of guys in camp, with former Oregon walk-on Mike Irwin being one of the favorites to start under center. RCC also lost a ton up front on defense, but the back seven should be as tough as any in the nation. Riverside finished eighth in the rankings last fall and starts the season at No. 3.
2) East Mississippi
In my opinion, Buddy Stephens just did his best coaching job in 2018 when the Lions went 12-0 and captured their fourth Dirty 30 national title. He took a team with good talent and garnered great results. This season's team will have no shortage of weapons and NFL prospects, and could end up being more dangerous. With Connor Neville bouncing back from Washington State, EMCC has a legitimate star under center. The defense should be vicious with Davontae McCrae (Mississippi State verbal) up front and Fred Hervey (Arkansas State verbal) in the middle of the field. If there is one potential missing piece, it could be up front on offense where the Lions have a few pieces to replace. East Mississippi captured a 4th national title in 2018, and starts the 2019 season at No. 2 in the rankings.
On a side note, everyone should join hands in keeping the EMCC family in your thoughts after a terrible car accident in recent days took the life of one EMCC player and left two others hospitalized. We don't know any of the details surrounding the accident, but the results are a reminder of how fragile life can be. As a father of two in the same age group, I'm sending my positive vibes from the West Coast!
1) Iowa Western
If there was a clear choice for the second best JUCO program in the nation over the past seven years, Iowa Western would be the favorite. The Reivers have won a pair of national titles and seem to be a regular challenger. This season IWCC looks to have the pieces to challenge for a third Dirty 30 title, with talent all over the field. Iowa Western went out and got a ton of bouncebacks, giving them D1 athletes in key places. They've already got five guys that have given verbal commitments to four-year schools, with defensive lineman Perrion Winfrey (Oklahoma verbal) and linebacker S.L. McCall (West Virginia verbal) on the defensive side and offensive tackle Jacob Gamble (West Virginia verbal), wide receiver Shaquan Anderson-Butts (Mississippi State verbal) and tight end Louis Dorsey (Memphis verbal) on the offensive side. It also helps to have a bevy of talented quarterbacks, led by Illinois bounceback Cameron Thomas.
The problems Iowa Western could run into aren't likely to come from personnel, given their talent and depth. The main obstacle IWCC faces is a brutal schedule with a ton of travel. The Reivers will make four trips to Kansas this season against a much-improved Kansas Jayhawk Conference. They also get a stiff challenge from in-state rival Iowa Central, who has upgraded mightily. If Iowa Western can run that gauntlet, they will be well-deserving of the recognition they receive. Iowa Western finished fifth in the rankings last season, and starts the 2019 season at No. 1.
The rest of the 2019 JCGridiron.com Dirty 30 Preseason Rankings follow.
JCGridiron Dirty 30 Rankings (PRESEASON)
| Rank | School | City | 2018 | 2018 Finish |
| --- | --- | --- | --- | --- |
| 1 | Iowa Western | Council Bluffs, IA | 10-1 | #5 |
| 2 | East Mississippi | Scooba, MS | 12-0 | #1 |
| 3 | Riverside City | Riverside, CA | 11-1 | #8 |
| 4 | Jones | Ellisville, MS | 9-2 | #3 |
| 5 | American River | Sacramento, CA | 7-4 | #22 |
| 6 | Blinn | Brenham, TX | 5-4 | #27 |
| 7 | Northwest | Senatobia, MS | 8-2 | #10 |
| 8 | Garden City | Garden City, KS | 10-1 | #2 |
| 9 | Saddleback | Mission Viejo, CA | 8-3 | #25 |
| 10 | Lackawanna | Scranton, PA | 8-0 | #9 |
| 11 | Butler | El Dorado, KS | 7-4 | #17 |
| 12 | San Francisco | San Francisco, CA | 7-4 | #26 |
| 13 | NE Oklahoma A&M | Miami, OK | 8-4 | #23 |
| 14 | Laney | Oakland, CA | 11-2 | #4 |
| 15 | Ventura | Ventura, CA | 11-2 | #6 |
| 16 | Kilgore | Kilgore, TX | 9-2 | #7 |
| 17 | Iowa Central | Fort Dodge, IA | 8-4 | #21 |
| 18 | Cerritos | Norwalk, CA | 7-4 | #37 |
| 19 | Hutchinson | Hutchinson, KS | 8-3 | #29 |
| 20 | San Mateo | San Mateo, CA | 8-3 | #18 |
| 21 | Trinity Valley | Athens, TX | 3-5 | NR |
| 22 | Fresno City | Fresno, CA | 9-3 | #12 |
| 23 | Copiah-Lincoln | Wesson, MS | 6-4 | #16 |
| 24 | Butte | Oroville, CA | 9-2 | #14 |
| 25 | Modesto | Modesto, CA | 8-3 | #19 |
| 26 | Canyons | Santa Clarita, CA | 10-1 | #11 |
| 27 | Fullerton | Fullerton, CA | 2-8 * | NR (8 forfeits) |
| 28 | Mt. San Antonio | Walnut, CA | 5-5 | NR |
| 29 | Bakersfield | Bakersfield, CA | 6-5 | #39 |
| 30 | Gulf Coast | Perkinston, MS | 7-2 | #20 |
JCGridiron Dirty 30 Champion History
| Year | Champion (s) |
| --- | --- |
| 2018 | East Mississippi College (MS) |
| 2017 | Iowa Western College (IA) * |
| 2016 | (split) Garden City College (KS) / Fullerton College (CA) |
| 2015 | City College of San Francisco (CA) |
| 2014 | East Mississippi College (MS) |
| 2013 | (split) East Mississippi College (MS) / Butte College (CA) |
| 2012 | Iowa Western College (IA) |
| 2011 | East Mississippi College (MS) |
| 2010 | Mt. San Antonio College (CA) |
| 2009 | Mt. San Antonio College (CA) |
| 2008 | Butte College (CA) |
| 2007 | (split) Mississippi Gulf Coast College (MS) / Butler College (KS) |
| 2006 | Blinn College (TX) |
| 2005 | Glendale College (AZ) |