Dirty 30 rocked by early upsets
The season hasn't even begun in the California ranks, and yet the top of the JCGridiron.com Dirty 30 Rankings has received a complete makeover. Four of the top six teams in the rankings were upset this past week, giving us a new No. 1.
The week started with complete chaos in Mississippi when previous No. 2 East Mississippi was stunned by Hinds and previous No. 4 Jones was toppled by Coahoma. It ended with previously top-ranked Iowa Western coming up short against in-state rival Iowa Central and previous No. 6 Blinn getting edged by Tyler. In nearly all four cases, turnovers and shoddy play by the quarterbacks played a critical role.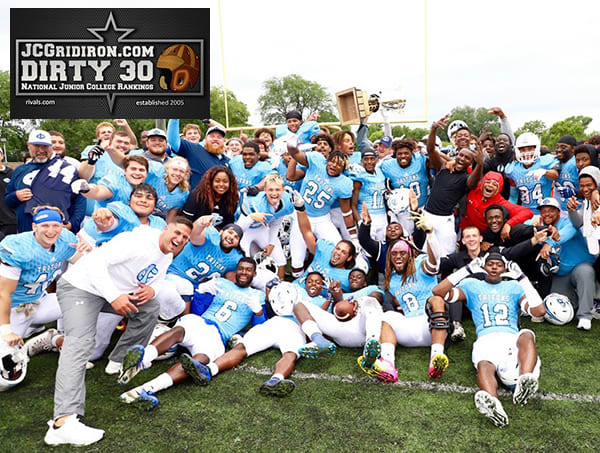 East Mississippi saw transfer quarterback Connor Neville throw three interceptions as the Lions turned the ball over four times, leading to a 24-16 setback for East Mississippi. Jones turned the ball over five times in an 18-10 disaster against Coahoma. Iowa Western suffered a similar fate when bounceback quarterback Cam Thomas threw a couple of picks, opening the door for Iowa Central to win the Kinney Cup. Blinn looked dead in the water for three quarters before a comeback fell short against Tyler, 27-24.
As a result, Riverside City College has taken over the top spot in the rankings and will open play at home against No. 38 El Camino College this Saturday. A handful of other California schools also moved up in the rankings with American River College moving to No. 4, Saddleback College to No. 6, City College of San Francisco to No. 9 and Laney College to No. 10.
The biggest leap in the top half of the rankings may belong to Butler, who moved all the way to No. 2 with an impressive showing against Snow College (36-17). The Grizzly defense forced five turnovers on the day and had a 26-3 lead at the break, controlling the clock for over 33 minutes.
Northwest Mississippi also made a solid jump, moving into the No. 3 spot in the rankings. The Rangers received three touchdown passes from Jack Walker while the defense recovered three fumbles.
The rest of the JCGridiron.com Dirty 30 Rankings follow. Just a reminder, JCGridiron.com does not include games against prep schools, club teams, or non-affiliated programs in the records.
JCGridiron Dirty 30 Rankings (9/2/19)
| Rank | School | City | Record | Next |
| --- | --- | --- | --- | --- |
| 1 | Riverside City | Riverside, CA | 0-0 | vs #38 El Camino |
| 2 | Butler | El Dorado, KS | 2-0 | vs Highland |
| 3 | Northwest | Senatobia, MS | 1-0 | vs Southwest (TH) |
| 4 | American River | Sacramento, CA | 0-0 | @ Sacramento City |
| 5 | Kilgore | Kilgore, TX | 2-0 | @ NM Military |
| 6 | Saddleback | Mission Viejo, CA | 0-0 | @ #29 Canyons |
| 7 | NE Oklahoma A&M | Miami, OK | 1-0 | @ #42 Georgia Military |
| 8 | Lackawanna | Scranton, PA | 0-0 | @ Wagner Coll (SU) |
| 9 | San Francisco | San Francisco, CA | 0-0 | @ #41 Sierra |
| 10 | Laney | Oakland, CA | 0-0 | vs #28 Modesto (FR) |
| 11 | Hutchinson | Hutchinson, KS | 2-0 | @ #18 Iowa Western |
| 12 | Ventura | Ventura, CA | 0-0 | vs Orange Coast |
| 13 | Hinds | Raymond, MS | 1-0 | @ MS Delta (TH) |
| 14 | Cerritos | Norwalk, CA | 0-0 | @ East Los Angeles |
| 15 | Iowa Central | Fort Dodge, IA | 1-1 | vs Coffeyville |
| 16 | East Mississippi | Scooba, MS | 0-1 | vs #36 Pearl River (TH) |
| 17 | Tyler | Tyler, TX | 1-1 | @ #20 Trinity Valley |
| 18 | Iowa Western | Council Bluffs, IA | 1-1 | vs #11 Hutchinson |
| 19 | Blinn | Brenham, TX | 0-1 | @ #43 Navarro |
| 20 | Trinity Valley | Athens, TX | 1-0 | vs #17 Tyler |
| 21 | San Mateo | San Mateo, CA | 0-0 | @ Siskiyous |
| 22 | Copiah-Lincoln | Wesson, MS | 1-0 | vs Northeast (TH) |
| 23 | Snow | Ephraim, UT | 1-1 | vs Air Force Prep |
| 24 | Garden City | Garden City, KS | 1-1 | vs Ellsworth |
| 25 | Fresno City | Fresno, CA | 0-0 | @ Santa Rosa |
| 26 | Gulf Coast | Perkinston, MS | 1-0 | vs #30 Coahoma (TH) |
| 27 | Butte | Oroville, CA | 0-0 | @ San Joaquin Delta |
| 28 | Modesto | Modesto, CA | 0-0 | @ #10 Laney (FR) |
| 29 | Canyons | Santa Clarita, CA | 0-0 | vs #6 Saddleback |
| 30 | Coahoma | Clarksdale, MS | 1-0 | @ #26 Gulf Coast (TH) |