Hutch takes over top spot in Dirty 30
The 2019 season is nearing the backstretch and so far the Dirty 30 Rankings has had three different programs at the top. Hutchinson College became the third this week after a critical win in the Jayhawk Conference.
Hutch came into the week ranked No. 3 behind No. 1 Riverside City College and No. 2 Butler College, who they were playing on Saturday. The Blue Dragons prevailed with a 35-27 win over Butler and with it ascended to the top of the rankings for the time being.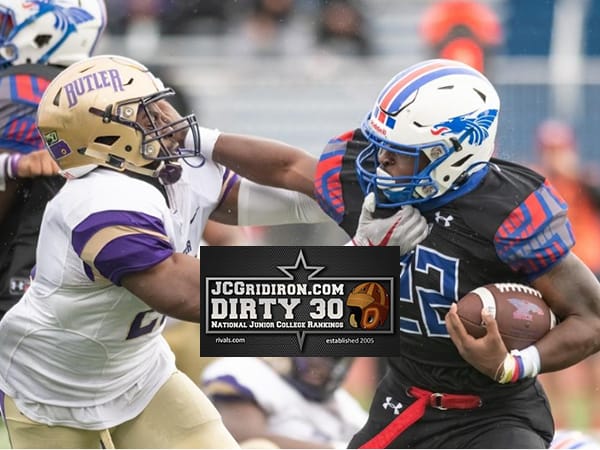 Previous No. 1 Riverside City dropped a spot after a lackluster 31-28 win against Long Beach City College. The Tigers pulled a rabbit out of a hat on Saturday, trailing by 11 points entering the fourth quarter before rallying past the Vikings.
College of San Mateo leapfrogged a few programs in settling into the No. 3 spot in the rankings. The Bulldogs stifled a very good Fresno City team, 17-3, in improving to 4-0. They now get a home date with Modesto (4-0), who moved up three spots to No. 7 in the rankings.
Mississippi Gulf Coast has emerged as a potential favorite in what seems like an off year for the Mississippi ranks. The parity in the conference has been on full display through five games, making it challenging to tab a favorite. Gulf Coast is the last remaining undefeated team at 5-0 and sits at No. 4 in the rankings after winning comfortably against a very good Copiah-Lincoln team (38-20). The Bulldogs now get a home date with Southwest, a team they should be able to handle without too much trouble.
One can also never forget about East Mississippi, who has bounced back since an opening-day loss with four straight wins. In doing so, they have moved back up to No. 8 in the Dirty 30 Rankings after pitching a shutout against East Central on Thursday (24-0).
For the past two years, no conference has been harder to predict than the Southwest Junior College Football Conference. Blinn (10), Trinity Valley (11) and Kilgore (17) are the top-ranked teams in the conference, but it is a long ways from determining the top dog. One of those questions will get answered this weekend when Trinity Valley hosts Kilgore in a crucial battle.
A hearty congratulations goes out to ASA-Miami, who makes their first-ever appearance on the big board at No. 27. The Silver Storm got the biggest win in program history on Saturday with a 24-14 win against Georgia Military and now stands at 2-1, with lone loss coming against No. 6 Lackawanna (25-40). Being an independent in a state where they are the only team is a challenging task, but with remaining games against Louisburg, Snow and a rematch with Georgia Military, they appear to be headed in the right direction.
With a ton of big games on the schedule for this week, it would seem that next week's rankings could get another facelift. Eight of the top 22 teams in the rankings have to go on the road to face other teams ranked in the top-50, giving us the potential for a ton of stunners.
BIG GAMES THIS WEEK
#1 Hutchinson at #29 Highland
#2 Riverside City at #39 San Diego Mesa
#3 San Mateo vs. #7 Modesto
#5 Saddleback at #38 Mt. San Antonio
#6 Lackawanna at #46 ASA-Brooklyn
#8 East Mississippi vs. #14 Northwest (Thursday)
#9 Butler at #32 Independence
#10 Blinn at #40 Northeastern Oklahoma A&M
#11 Trinity Valley vs. #17 Kilgore
#12 Ventura vs. #43 Fullerton
#15 Fresno City vs. #25 American River
#18 Copiah-Lincoln vs. #41 East Central (Thursday)
#21 Garden City at #34 Iowa Central
#22 Cerritos at #30 Long Beach City
#23 Butte vs. #35 Laney
The rest of the JCGridiron.com Dirty 30 Rankings follow. Just a reminder, JCGridiron.com does not include games against prep schools, club teams, or non-affiliated programs in the records.
JCGridiron Dirty 30 Rankings (9/30/19)
| Rank | School | City | Record | Next |
| --- | --- | --- | --- | --- |
| 1 | Hutchinson | Hutchinson, KS | 5-0 | @#29 Highland |
| 2 | Riverside City | Riverside, CA | 4-0 | @ #39 San Diego Mesa |
| 3 | San Mateo | San Mateo, CA | 4-0 | vs #7 Modesto |
| 4 | Gulf Coast | Perkinston, MS | 5-0 | vs. Southwest |
| 5 | Saddleback | Mission Viejo, CA | 4-0 | @ #38 Mt. SAC |
| 6 | Lackawanna | Scranton, PA | 3-0 | @ #46 ASA-Brooklyn |
| 7 | Modesto | Modesto, CA | 4-0 | @ #3 San Mateo |
| 8 | East Mississippi | Scooba, MS | 4-1 | vs #14 Northwest (TH) |
| 9 | Butler | El Dorado, KS | 5-1 | @ #32 Independence |
| 10 | Blinn | Brenham, TX | 2-1 | @ #40 Northeastern Oklahoma A&M |
| 11 | Trinity Valley | Athens, TX | 4-1 | vs #17 Kilgore |
| 12 | Ventura | Ventura, CA | 3-1 | vs #43 Fullerton |
| 13 | San Francisco | San Francisco, CA | 3-1 | vs Siskiyous |
| 14 | Northwest | Senatobia, MS | 4-1 | @ #8 East Mississippi (TH) |
| 15 | Fresno City | Fresno, CA | 3-1 | vs #24 American River |
| 16 | Snow | Ephraim, UT | 2-2 | bye |
| 17 | Kilgore | Kilgore, TX | 4-1 | @ #11 Trinity Valley |
| 18 | Copiah-Lincoln | Wesson, MS | 3-2 | vs #41 East Central (TH) |
| 19 | Canyons | Santa Clarita, CA | 3-1 | @ Golden West |
| 20 | Jones | Ellisville, MS | 3-2 | vs Pearl River |
| 21 | Garden City | Garden City, KS | 4-2 | @ #34 Iowa Central |
| 22 | Cerritos | Norwalk, CA | 3-1 | @ #30 Long Beach City |
| 23 | Butte | Oroville, CA | 2-2 | vs #35 Laney |
| 24 | American River | Sacramento, CA | 2-2 | @ #15 Fresno City |
| 25 | El Camino | Torrance, CA | 3-1 | @ Moorpark |
| 26 | Chaffey | Rancho Cucamonga, CA | 4-0 | @ Compton |
| 27 | ASA-Miami | Miami, FL | 2-1 | vs Louisburg |
| 28 | Fort Scott | Fort Scott, KS | 3-2 | bye |
| 29 | Highland | Highland, KS | 3-2 | vs #1 Hutchinson |
| 30 | Long Beach City | Long Beach, CA | 2-2 | vs #22 Cerritos |