Two top-10 teams fall from unbeaten
The 2017 season has had another crazy start and every week a team or two will see their perfect season come to an end. This week two more teams fell out of the top-10 after getting dumped in big games.
The first to fall was former No. 3 Butte, who got waxed by San Mateo. The Roadrunners had just three yards passing at the half on way to getting manhandled by the Bulldogs, 51-12. San Mateo now jumps to No. 8 in the rankings while Butte falls 12 spots to No. 15.
The other that fell hard was Mt. San Antonio, who ran into top-ranked Fullerton and felt the wrath of the Hornets. Mt. SAC was down 42-7 at the break before falling 49-23. The Mounties fell 11 spots to No. 16 as a result. Fullerton did nothing to hurt their No. 1 ranking.
Maybe the most entertaining game out west was between two, top-20 programs as Saddleback hosted El Camino. The Gauchos and Warriors scored 76 points in the opening half as neither defense had any answers. The second half was completely different, as both defenses made adjustments in the locker room and played much better. Saddleback finally scored with 1:29 remaining to snatch victory from the jaws of defeat (48-45) to stay undefeated. The Gauchos moved up one spot to No. 7 after the win while the Warriors dropped two spots to No. 19.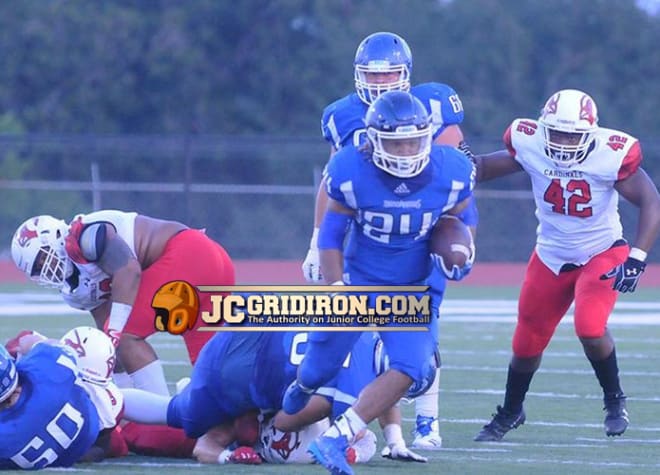 The folks at Blinn have a couple of tough games remaining, but have been impressive in grasping control of the Southwest Junior College Football Conference. The Bucs have beaten Navarro, Trinity Valley and Kilgore in successive weeks, all of which competed for the conference title a year ago. The latest win was over Kilgore where the Bucs held off the Rangers 27-16 in a defensive struggle. Blinn is now at No. 4 in the rankings, but has no time to rest as they host No. 17 Tyler this week.
The rest of the Dirty 30 Rankings follow.
Just a reminder, the Dirty 30 Rankings do not include games against prep schools or non-affiliated programs in the team records.
JCGridiron Dirty 30 Rankings (9/25/17)
| Rank | Team | Town | Record | Next |
| --- | --- | --- | --- | --- |
| 1 | Fullerton | Fullerton, CA | 4-0 | @ Moorpark |
| 2 | East Mississippi | Scooba, MS | 4-0 | @ Delta (Th) |
| 3 | Arizona Western | Yuma, AZ | 3-0 | bye |
| 4 | Blinn | Brenham, TX | 4-0 | vs. #17 Tyler |
| 5 | Riverside City | Riverside, CA | 4-0 | @ Cerritos |
| 6 | Iowa Western | Council Bluffs, IA | 4-1 | bye |
| 7 | Saddleback | Mission Viejo, CA | 4-0 | @ #28 Ventura |
| 8 | San Mateo | San Mateo, CA | 4-0 | vs. #33 American River |
| 9 | Trinity Valley | Athens, TX | 4-1 | @ New Mexico Military |
| 10 | Independence | Independence, KS | 3-1 | @ #41 Dodge City |
| 11 | Gulf Coast | Perkinston, MS | 3-1 | @ #23 Hinds (Th) |
| 12 | Hutchinson | Hutchinson, KS | 3-1 | vs. Iowa Central |
| 13 | Lackawanna | Scranton, PA | 2-0 | vs. Erie |
| 14 | Snow | Ephraim, UT | 3-0 | bye |
| 15 | Butte | Oroville, CA | 3-1 | vs. #32 San Francisco |
| 16 | Mt. San Antonio | Walnut, CA | 3-1 | vs. Orange Coast |
| 17 | Tyler | Tyler, TX | 3-0 | @ #4 Blinn |
| 18 | Butler | El Dorado, KS | 3-1 | vs. #21 Garden City |
| 19 | El Camino | Torrance, CA | 3-1 | @ #37 Bakersfield |
| 20 | Laney | Oakland, CA | 3-1 | vs. Contra Costa (Fr) |
| 21 | Garden City | Garden City, KS | 2-2 | @ #18 Butler |
| 22 | Holmes | Goodman, MS | 4-0 | vs. #35 Northwest (Th) |
| 23 | Hinds | Raymond, MS | 3-0 | vs. #11 Gulf Coast (Th) |
| 24 | Jones County | Ellisville, MS | 3-1 | @ Southwest (Th) |
| 25 | Siskiyous | Weed, CA | 4-0 | @ Modesto |
| 26 | Georgia Military | Milledgeville, GA | 2-1 | vs. ASA-Miami |
| 27 | Canyons | Santa Clarita, CA | 3-1 | @ Grossmont |
| 28 | Ventura | Ventura, CA | 2-2 | vs. #7 Saddleback |
| 29 | Highland | Highland, KS | 2-2 | bye |
| 30 | Long Beach City | Long Beach, CA | 2-2 | @ Golden West |